 iClicker Support
Getting Started
Clickers (or Student Response Systems) are wireless handheld devices that allow students to respond to classroom polls and quizzes. The clickers transmit student responses to the instructor's computer where they are recorded and then the instructor can choose to share these results directly back to the class.
The Centre for Instructional Support can provide instructors with test clicker and a portable base station so they become familiar with the iClicker system/software in their office before using them in class.
Students need to register their clicker ID through a link in your Canvas course. This registration process connects each clickers ID and results with the appropriate student number so the grades can be synced into the Canvas grade book.
Studies conducted on the usage of clickers demonstrate an improved learning environment for students. Effective use of clickers leads to greater class interactivity, increased student-teacher interaction, and consequently improved conceptual understanding of material for the learners.
Instructors can use clickers as a tool to gauge students' understanding and/or as a low-stakes quiz delivery system.
Clickers also allow instructors to:
Increase class participation and improve attendance
Spark debate and discussion in class
Identify students who need additional assistance
Instantly gauge student comprehension of a particular topic or question
Take attendance
Encourage class discussion among all students
Instantly grade and record student results
Give continuous feedback to provide students an active learning process
Generate student assessment reports
Easily deliver quizzes and assessments electronically
Focus more time on teaching and less time on paperwork and grading
Download
To use Clickers with Canvas, you will need to download the iClicker Classic software onto your computer. You can do so here:
If you're running the macOS Sierra or newer, please refer to this guide. to setting up to create UBC Configured iClicker software on a Mac.
Download Instructions
Access the software distribution site at the link above and sign in with your CWL.
Select "iClicker Classic" from the Teaching & Learning tab.
Click "Add to Cart", then "Check Out".
Follow the prompts until you reach an Order Summary screen with a download link.
If you need to download a copy of iClicker and do not have/need to get a CWL, you can download it directly from the iClicker Website (note: downloading iClicker this way does not allow for synchronization with Canvas), or contact support for more help.
Add iClicker Remote Registration to a Canvas Course
You can add a link to iClicker on the side bar of your Canvas course by following these steps:
Go to your course and click settings.
Click on the navigation tab.
Drag iClicker from the list of disabled navigation items to the list of enabled navigation items.
Save your change.
Your students will now be able to register their clickers to your course. While the email address field must be filled out, students not do need to provide a real email address.
Students might see the following message when they try to register their clicker in Canvas which is caused by the browser blocking third party cookies from loading:
"Incomplete information received, please enable cookies or contact support"
To register a student clicker in Canvas, students will need to allow cookies following the steps below:
Firefox
Go to File > Preferences > Privacy & Security or enter about:preferences#privacy into the browser's URL field
Under History in "Firefox will" field, select "Use custom settings for History"
Check the checkbox next to "Accept cookies from websites"
Click Exceptions…
Enter the following into the Address field: https://lmsreg.iclicker.com
Click Allow, then Save Changes
Chrome
Enter chrome://settings/content/cookies into browser's URL field
Besides the heading "Sites that can always use cookies", click ADD
Enter the following into the Site field: https://lmsreg.iclicker.com
Click ADD
Set up your classroom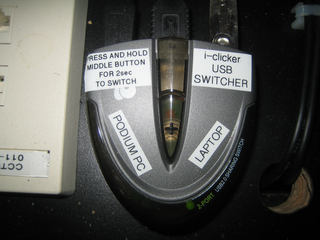 Your classroom will need a receiver base station to receive and process student votes. Check to see if your room already has a clicker base installed (see list of rooms for Vancouver or Okanagan). If it is not equipped:
Get your classroom equipped. An iClicker receiver base can be installed for you (as long as the room has a podium to lock the iClicker receiver base into). Please contact clicker.support@ubc.ca to have one installed.
If a base cannot be installed, you can use a portable iClicker receiver base. The Centre for Teaching, Learning and Technology will loan you a portable base that can be used in any room. Check the list of rooms to see which frequency you can use.
The iClicker receiver base can be connected via USB to a laptop or podium computer. The USB port for your flash drive can be found on the right side of the iClicker base receiver.
If using a fixed classroom base, the iClicker USB switcher near the podium (see picture) has to be set to either a laptop or podium computer input in order for the receiver to function. The location of the switcher may vary depending on the design of the podium. To switch the input, press and hold the button on the switcher for two seconds.
Learn more about connecting iClicker with classroom hardware.
If you are new to using iClickers, we can attend your first class using clickers and make sure things start smoothly and without stress.
Contact jim.sibley@ubc.ca to arrange a classroom visit.
---
Common Requests