What is TBL?
Team-Based Learning:Effectively flipping your course
Team-Based Learning (TBL) enables you to realize the full potential of the flipped classroom by providing coherent organizational structures to design your course. TBL is a unique and powerful form of small group learning that was developed at the University of Oklahoma Business School in the late 1970's. TBL helps in addressing two of the main questions you need to ask when thinking about flipping your course. First, "how can I ensure my students prepare?"Second, "when students are prepared, what am I going to do with the 'free' class time?" The goals at the heart of these questions are achieved by using TBL's Readiness Assurance Process and team application activities.
The Readiness Assurance Process: Getting students prepared
Prior to class, students use assigned preparatory materials (textbook chapters, articles, videos, etc.) to learn basic content. In class, the Readiness Assurance Process (based on these preparatory materials) uses a clever sequence of individual and team tests to unleash the power of social learning. The individual test is completed first and it holds the students accountable to preparing prior to class. The same test is then completed in teams, providing immediate feedback on understanding and rich collaborative learning opportunities. The Readiness Assurance Process process converts student pre-class preparation into true readiness to begin problem-solving. The next step is team application activities.
Team Application Activities: Helping students apply course concepts
The majority of class-time is spent on team application activities where student teams learn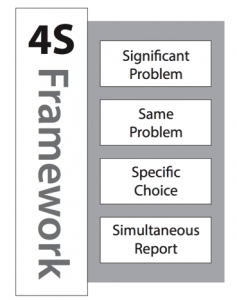 how to apply the course concepts to solve relevant and interesting problems. These application activities use something known as the 4 S framework to structure and guide problem-solving and decision-making events. The 4 S structure let's you consistently build problem-solving events that naturally lead to spirited discussions about the application of the course content. When you ask the right kind of question – one that requires both consideration of complex data and careful discrimination between reasonable options – powerful things can happen. The consideration of viable options that require deep, complex analysis is the holy grail of TBL.
Here is an example question from an engineering course.
You are designing a bridge for the local salt-water marina. What bridge building material would you recommend? and why?
Wood
Concrete
Steel
Aluminum
These possible answers seem deceptively simple, but the process to arrive at a choice, and the justification required to support the choice, can be rich and complex.
When teams simultaneously report their application activity decisions, any contrasts in thinking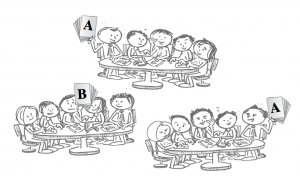 are immediately apparent. These contrasts then allow the instructor to facilitate intense give-and-take discussions. Teams get immediate focused feedback from other teams on the quality of their thinking. Following simultaneous reporting, teams challenge other teams' decisions and may be required to defend their choices by explaining their rationales. During these application activities, you get to see the true power of TBL and the flipped classroom when teams are making decisions, publically committing to them, and then deeply discussing their decisions.
TBL is a powerful pedagogical and instructional framework that gives you some proven and reliable structures around which to build your course. Because TBL classroom activities are built on students giving students feedback, TBL scales very well to large classroom settings (200-400).
TBL at University of British Columbia
TBL has been successfully used at UBC for over 14 years and in classes as large as 200 students. The original classroom pioneers in Applied Science were Pete Ostafichuk from Mechanical Engineering and Thomas Froese from Civil Engineering. Pete started with a 2nd year Mechanical Design course and Thomas started with a 4th year Construction Management course.
Pete has reflected on his journey to TBL in the preface of his new Team-Based Learning book, "The thing that sold me on TBL most and compelled me to give such a quick "yes" to adopting it was that TBL just made sense. Even as a new faculty member, I recognized there had to be a better way to teach than by passive lectures. As a student, I remember sitting in class thinking "this makes sense" as the teacher lectured away, only to pull my hair out at home as I tried to apply some of the concepts on my own. Flipping this so the students cover the basic stuff on their own before class and then they have the support of a team—as well as the insight and guidance of the subject "expert"—as they actually apply the course material to challenging problems seems so obvious and natural that I wondered why I hadn't been exposed to this approach before."[i]
Jim Sibley, the Director of Applied Science's Center for Instructional Support, has supported faculty in the adoption of TBL right from the start. TBL has now been used at UBC in a wide variety of disciplines including Engineering, Psychology, Social Work, Nursing, Planning, and Business. The Centre and Jim have now become international leaders in TBL by helping institutions all over the world develop TBL based programs.
The long collaboration between Pete Ostafichuk and Jim Sibley has recently produced a new TBL book. "Getting Started with Team-Based Learning" will be published by Stylus in July 2014.
How to get started
To learn more about TBL, visit LearnTBL.ca or contact Jim Sibley