A good option is to pre-record your PowerPoint presentations using Camtasia software.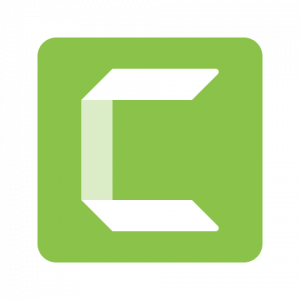 Camtasia is a powerful screen-casting tool that also supports video editing. It is available in Windows and Mac versions. There are differences between Camtasia for Mac and Windows. But they both let you do simple voice-over PowerPoints easily. The software is free for all UBC faculty, staff, and students.
Download the software for Free – UBC licensed!
UBC offers campus-wide free access to Camtasia for faculty, staff, and students. First, download the software to your computer, then install and open it to start making projects.
The easiest way to download and install is:
Log in to Canvas with your CWL.
Click the "Help" menu on the right side of the page.
Click the "Software Distribution" option.
Select "Camtasia" from the menu.
Choose your platform.
Click the "Add to cart" button.
Click the "Proceed to Checkout" button.
Fill in your Contact Information.
Click the "Proceed with Download" button. Copy down the activation key that appears on this page.
Click the "Download" button and follow the instruction prompts to complete the installation.
Here is simple instructions of how to use Camtasia to record your Lectures/Presentations
View Channel Techsmith on YouTube for the latest tips and product "how-tos." Access the full set of tutorials from the Techsmith website: