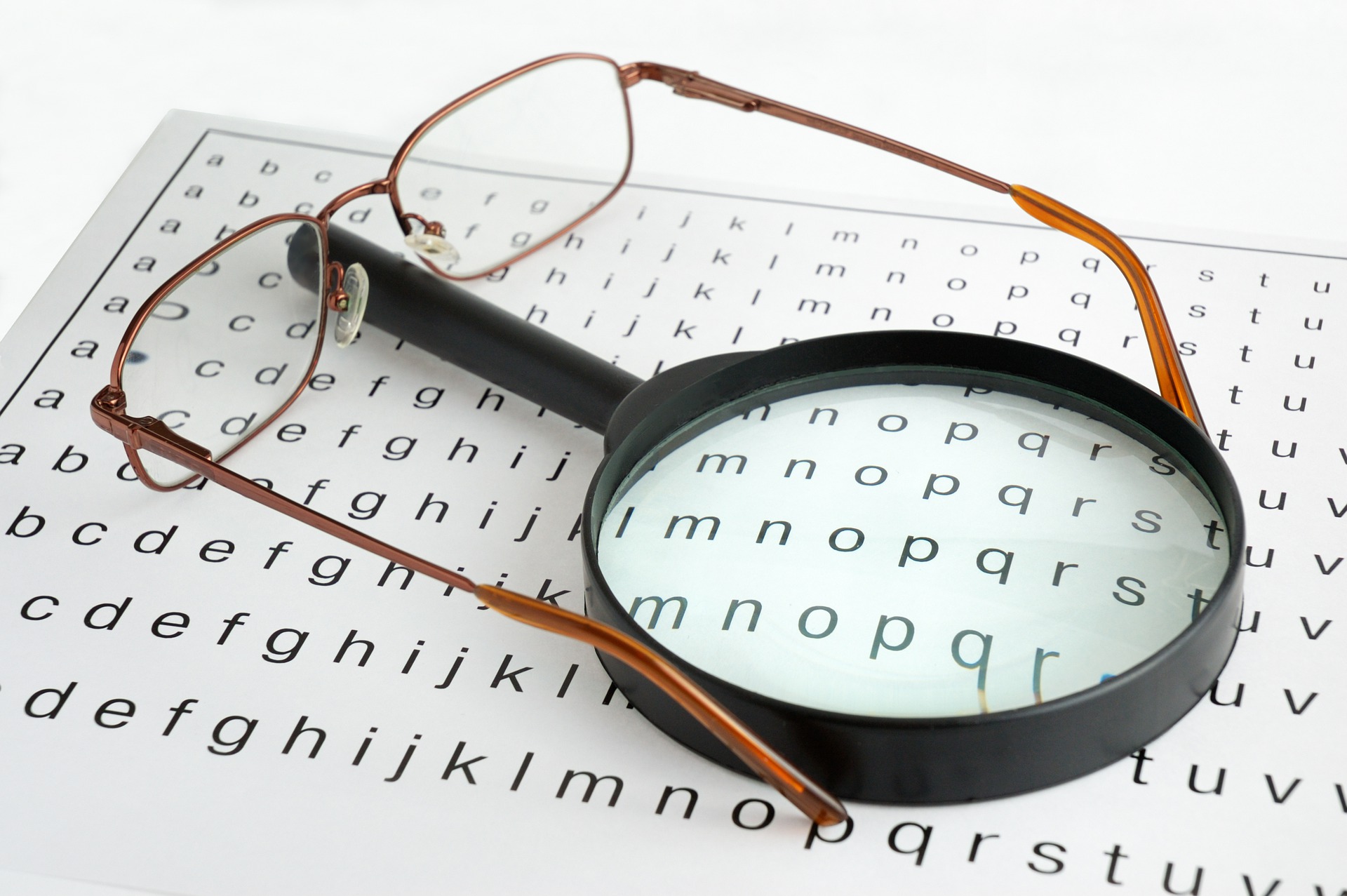 Making your instruction more clear is always a good idea, but it is especially important online. Online, students have very different opportunities to ask clarifying questions during instruction and can be reluctant during live online classes to ask questions and seek clarifications on assignment instructions. Your goal should be to provide students with greater clarity. There are some simple opportunities at the course, class, and assignment level to increase the clarity of your instruction.
First, at the course level, spend some time revising your course syllabus to ensure it uses simple, straightforward language that makes your expectations clear and provides comprehensive information about course logistics and assignments. Provide a detailed section on online examination expectations and procedures and advice on computer requirements. Will the final exam use LockDown Browser? will it be an open book exam? how long will it be? will it be multiple-choice based or include hand-written answers? It is better to let students know these details earlier rather than later. It is very important to manage student expectations. Making things more clear at the course start can reduce student anxiety and push-back later in course. Here are our current recommendations for delivering exams online (current advice following debrief of lessons learned during 2019 W2 exam period). When you are organizing your course website, spend some additional time carefully naming and organizing your files to help students more easily find their way. Use a consistent naming convention that helps people understand where each file fits in the hierarchy and structure of the course. Organize the course site so it helps students build the knowledge structures will help them to more deeply learn the course materials. You likely won't have the same opportunities to answer student questions, so the course site organization needs to do some of the speaking for you. To take your syllabus to the next level, you might consider building a graphic syllabus.
Second, at the assignment level, try to make your assignment instructions more detailed then you might normally. Students will be interacting with you less and likely asking fewer questions for clarification on assignment details. Spend some time to add detail to the instruction so they can better stand-alone, with fewer in-class clarifications. Another great way to add clarity to any assignment is to create a rubric.
A rubric is a set of criteria for grading assignments. Rubrics are often presented in table format and can be used when marking, and can also be used by students when planning and completing their work. Rubrics usually contain multiple categories (rows) and levels of achievement (columns), and often an overall scoring strategy. The categories (rows) are different attributes that should be present in well-constructed work. Rubrics make your assessment criteria very transparent to the students, makes marking of assignments easier and more consistent, and accreditors love to see them in use.
A typical rubric constructed in table format will have the following:
One or more attributes for judging the student responses (row headings)
Description to clarify the meaning of each attribute (row heading description)
A rating scale for each attribute – e.g. Exceeds Expectations/Meets Expectations/Below Expectations (column headings)
Descriptions for each attribute/rating level (cells – descriptions)
Constructing rubrics has many benefits for both student and teacher. We sometimes mark in an intuitive holistic way and building rubrics can help us understand and better explicate our own specific internal standards, and it forces you to really decide on which attributes are most useful in identifying the differences between high and low quality student work. There can be surprises here for faculty when they start considering all the different possible attributes to rate students' work and identify the most important – the most telling. What you are looking for is visible attributes that really help you identify the difference between high and low quality student work. If you have TAs marking student work, rubrics can help the TAs better understand your personal standards, which lets them more consistently evaluate student work – like you would. Students can also use the rubrics to build better work. We want students to produce high quality work, but sometimes don't specifically tell students the attributes we expect to see in high quality work. Rubrics can help close this gap.
See rubric examples – example 1 (research study presentation) | example 2 (complete set of Value Rubrics from AACU)
Personal admission: I really, really enjoy creating rubrics – contact me if you want my help creating some rubrics for your course – Jim
Third, at a class level, using a carefully crafted teaching plan can dramatically improve students learning. The underlying organization of any online or F2F classroom session parallels that of any effective teaching intervention; it needs a well-thought-out structure with a beginning, middle, and end. There are many frameworks used to describe such planning structures, but they generally have the same elements grouped in different ways. I recommend the use of a simple model called Set, Body, Close [Craig & Page Med Ed 1987_set, body close].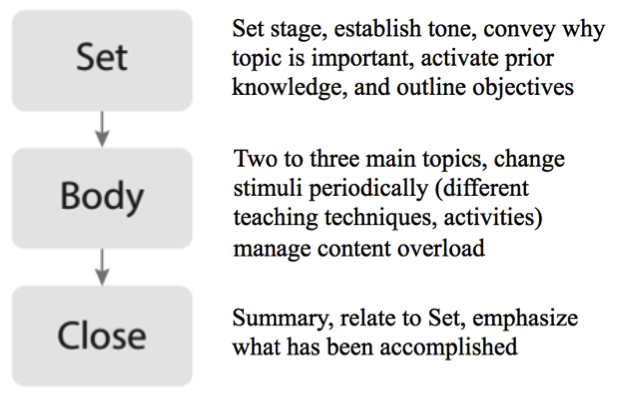 Set, Body, Close is highly adaptable for almost any size group and length of activities (a short activity to a whole class). The Set portion sets the stage and primes the learners for what is to come; most importantly, it establishes the tone, conveys why the topic is important, activates students' prior knowledge, and outlines the objectives. The Body is the core of the class; in a conventional lecture, this would be where the teacher delivers content, while for an activity it could include tasking, time to work on activity, reporting, and discussions. Finally, the Close wraps everything up. It summarizes the class or activity, emphasizes what has been accomplished, and relates the outcomes to the objectives from the Set.
Using more structure in your teaching can help students get more from your sessions. There are often worries that if one spends too much time on structure, you won't have enough time to cover all that content. This is actually a false dilemma. Research has shown that students learn the most from less dense lectures and even outperform peers who have had denser lectures. And there is more – when examined, the less dense lecture cohort even outperformed on the content they didn't cover! The lower data rates make it so students can actually learn and organize their understanding as they are learning it, which leads to better retention and long-term understanding. Don't believe me? Read Effects of lecture information density on medical student achievement in the Journal of Medical Education.