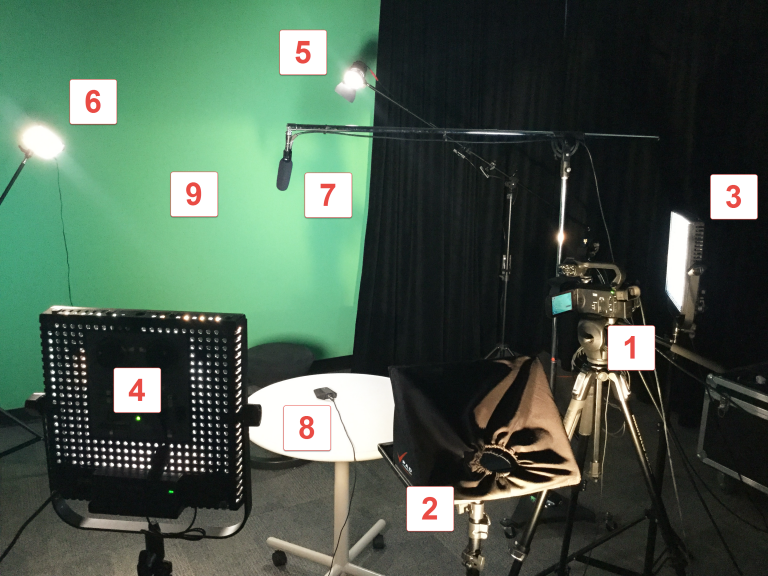 Our studio is located in MCLD 219 and is free to use for all Applied Science Faculty. The studio is also available to other campus user when space permits. In the studio you'll find equipment already set up and ready to go. Equipment include all the cameras, lights, microphones, teleprompters, monitors, and backdrops to make shooting your video easy.
Booking
Contact us at learning@apsc.ubc.ca to inquire about booking the studio. The studio is not one-button, but it extremely easy to use and our students can help you!
Equipment
Camera and Tripod

Canon XA20 HD camcorder that records mp4 direct to SD card, with both microphones automatically mixed at camera

Teleprompter – iPad powered teleprompter with voice activated scrolling
Key Light – Litepanel bi-colour 1×1 – dimmable, colour temperature adjustable
Fill Light – Litepanel daylight 1×1 – dimmable
Back Light – Litepanels Sola 4 Fresnel Light – dimmable, focusable
Kicker Light – Litepanels Croma – dimmable, colour temperature adjustable
Boom/Shotgun Microphone
Boundary Room Microphone
Green Screen and Black Curtain backdrops
TV monitor (not in picture)
We also have a camera, tripod, and lapel microphone available for filming outside of the studio. We are able to film lectures with this equipment upon request. If you are a faculty member interested in borrowing this equipment, contact us today.
Getting Ready for a Video Shoot
Try not to wear clothing that has busy patterns. Avoid checks, herringbone, stripes and pinstripe especially. Solid primary colours are best (but avoid green). If you have long or fuzzy hair, subtracting the green screen can be difficult and lead to poor results. In these cases, we recommend using the solid black backdrop.
Bring an SD card and you can take the video home with you.