Current Advice (13apr2021) is to not use Lockdown Browser with zoom. There have been large issues with the combination. Descriptions like "total disaster" and "gong show" are being used to describe exams that have tried to use both at same time.
Our current advice is to use one or the other……Zoom with a traditional Canvas Quiz or Lockdown Browser without Zoom
OR

   

But not both at same time

 
Old Instructors Guide for trying to use both
Any use of Proctorio at UBC has been banned. The best alternate solution is to use the Respondus LockDown Browser (available inside Canvas) combined with Zoom. LockDown Browser will not work for exams with handwritten calculations that are photographed and uploaded – We can still use Zoom but cannot lock the browser down.
Overview of Student Experience
Students first open the Respondus lockdown browser application, it then takes them to CWL login page, they then authenticate into Canvas, navigate into course, find and start the exam/quiz. After the exam/quiz loads, they can then use instructor provided clickable links in instruction section of Exam Quiz to start Zoom session. The Zoom session will open in separate TAB within the LockDown Browser. The order is important here – you don't go to Zoom first, you open Zoom from within the LockDown Browser.
Instructor Setup Procedure
Create Canvas Quiz for Exam

Create regular Canvas Quiz (these instructions are for Canvas Classic quizzes, not New Quizzes. You can use New Quizzes, just process is slightly modified – contact learning@apsc.ubc.ca for guidance and help)
Create Zoom Meeting for Invigilation
Create Zoom Meeting for invigilation (start 30 minutes before exam, at a minimum ends 30 minutes after exam time, might be worth making the time window a few hours longer for accommodations?)

Copy the join link (complete link with meeting ID)

Note the 6 digit meeting

passcode

from the meeting settings page
Modify Zoom Join Link
Take the copied Zoom join link and edit the

/j/

to

/wc/join/

 This forces student to join meeting in browser version of Zoom.
Provide Zoom Link for student to access after starting LockDown Browser
Here is recommended change in instructions – this should address students who had Zoom audio issues and students who opened Zoom before LockDown Browser and couldn't get back to Zoom window to chat with instructor.
Change Quiz Instruction to NOT have Zoom link
Welcome to Exam
In this exam, we will be using a combination of Respondus LockDown Browser and Zoom. How you access and the order you access both of these is very important.
Download

LockDown Browser (Links to an external site.)




and install on your computer

First, open LockDown Browser App. It may ask to close other applications when opening – allow it to close other applications

CWL login screen appears enter CWL credentials and do double authentication

This will take you to your Canvas Dashboard. Navigate to course with Exam, navigate to Exam/Quiz, select "Start Quiz"

Exam/Quiz will load, your instructor will have added

Zoom link in the first quiz question

. Clicking on this link in the first question will spawn a separate TAB for Zoom.

The order is important VERY here

– you DON'T go to Zoom first, you go to LockDown Browser first, then open Zoom from within the LockDown Browser environment. You should be able to easily switch between Zoom TAB and Quiz TAB within the LockDown Browser environment.
Overcome Common Issues
If you can't navigate between Zoom and Quiz TAB – quit and restart LockDown Browser – carefully following startup sequence instructions again.
If you have trouble with audio in Zoom – quit and restart lockDown Browser – carefully following startup sequence instructions again.
ADD FIRST QUESTION TO PROVIDE ZOOM LINK – we now recommend adding Zoom access links as question text that can appear as first quiz question – otherwise it is possible for students to start Zoom before LockDown Browser – which will lock them out of Zoom window, but actually keep their webcam running – they just won't be able to navigate back to Zoom window to use chat. The one caveat here is if you invoke one question at a time and students get disconnected from Zoom they may have trouble getting back to first question to reconnect with Zoom.



Setup LockDown Browser
Navigate to LockDown Browser link on left menu, this will bring up listing of existing Canvas quizzes

Click on down chevron by quiz name to access Settings > Respondus LockDown Browser Dashboard 

Select  "Require LockDown Browser"

Open "Advanced Settings"




Deselect "Require LockDown browser to view feedback and results"

Select "Lock students into Browser until exam is completed"
Select "Allow Students to take Exam on iPad"

Select "Allow access to specific external web domains" – paste "ubc.zoom.us" in "Enter one or more domains" text box. You can also add more links to our Student FAQ help pages and LT Hub help pages here (comma separated). You can add these links to top of quiz page in instruction section as clickable links. This will let student open these links as new TABs with in the lockdown browser. Once the TABs are open the student can easily switch between the TABs.

Select "Save and Close" at bottom of page

The Quiz listing will now have "required" in LockDown Browser column beside this quiz.
Monitoring vs Invigilation
You can use zoom to loosely monitor large group of students, or break students into groups of 15 to 25 and truly invigilate in each room. One difficulty with invigilating with Zoom is  that you will only have students Zoom display name and associated participant information, unless you can recognize everyone in your class, we have not come up a reasonable solution for the invigilator to know who is actually in breakout room. The students Zoom display name could be quite different than their actual name – could be a household laptop that will default to another household Zoom name.
Monitoring Students
Consider monitoring like sitting invigilating in a big gym and all invigilators sit at front with no one ever getting closer to students, walking up and down the isles, or really paying attention to just a small portion of class. Unless you do the invigilation of small groups, I am not sure that monitoring can provide enough useful information to launch an integrity investigation from – mostly we are doing this to have the students know we are watching.
Instructor Monitors Students  – The Zoom gallery view in the main room only allows 49 people on a particular screen at a time (7 rows of 7 participants). Once there is more than 49 people in meeting, a second gallery view page is created. The teacher would need to actively toggle back and forth between gallery views to keep an eye on all students. 

You can record the main room, but probably isn't worth it since it just records only the main rooms current view and not all participant screens. 
Truly Invigilating
This will be closer to normal exam invigilations. Your attention is focused enough a small group of students that you can spot unwanted student behaviours. You need to breaks students into these smaller groups (typically 15-25 per invigilator), either by using breakout rooms in one meeting or having multiple zoom meetings concurrently for different sections of class. 
Using breakout rooms in One Zoom meeting –   Current advice is to have breakout rooms of 16 to 25 people and have TAs and instructors invigilate these rooms.  A novice should not be keeping an eye on more than 16 people at a time (which really would be most TAs).  If you make the invigilators co-hosts, they can record their breakout room, but it has to be local recording, not cloud, so then you have to ensure that the TAs have a secure place to upload these videos to. The invigilators in each breakout room can start recording once they are in breakout room. Breakout rooms can only have 25 people when recording, so number of invigilators in large courses will be many.
UPDATE – 23mar2021 – LT Hub – Recording Zoom breakout rooms is no longer recommended. LTHub mentioned there are some complexities and constraints with the technology that might prevent proper recording
Using Multiple Zoom meetings – Main rooms can have 49 people recorded.  Multiple zoom meetings can be used to monitor a larger group (if you don't have enough invigilators). In the main room of a Zoom meeting you can monitor and record 49 participants instead of the breakout room 25 participants limit. 
Frequently Asked Questions
How does Instructor check Student Cards?
It is not OK for students to show their ID card in Zoom when other students are present. So you can't do it 

in a

 bulk way in main Zoom room with all students.
Option 1: Instructor could take each student individually into a breakout room and do ID check privately, then put them back in main room, and move the next student to breakout room….repeat.
Option 2: Instructor could enable waiting room…bring one student at a time into meeting…so they are the only student in meeting….do ID check….then put them back in waiting room….do next etc…..once all verifications are done – you let everyone into meeting.
Option 3: Students could take a selfie with their card…and either attach it to private chat in zoom….or have a file upload question in Canvas.
How does the Instructor communicate with Students during Exam?
The instructor could use Chat to communicate with all students or an individual student, but if a student never goes back to Zoom TAB within LockDown browser – they may never see the Chat message. If they have privately asked a question of the instructor, they will likely be motivated to monitor the Zoom Chat for the answer.
If the instructor spots some suspicious behavior, they have no direct way of contacting that individual student. But the instructor/invigilator could make an general AUDIO ANNOUNCEMENT to everyone – using more generic wording – I see a few people looking down like they are using a second device. Can I remind everyone that a second device is not allowed. OR I see some people have left the room, I presume to go to bathroom – can you please privately message me that you want to go and message me again when you are back.
How do Students privately communicate with Instructor during Exam?
You can set it up so student can use Zoom chat to privately message the instructor.
You will want to change Chat Settings once you have started the meeting. Go to Chat Panel and further options (3 dots bottom right) and select "Participants Can Chat With: Host only". This will allow private communication between instructor and individual students and individual student to instructor.
You need to ensure that they have permission to open Zoom within the LockDown Browser. You do this  by adding "ubc.zoom.us" in Advanced Settings – Allowed Domains and providing a clickable link in Quiz instruction field. Students can then open a separate TAB for Zoom and use the chat feature to privately message the instructor/invigilator.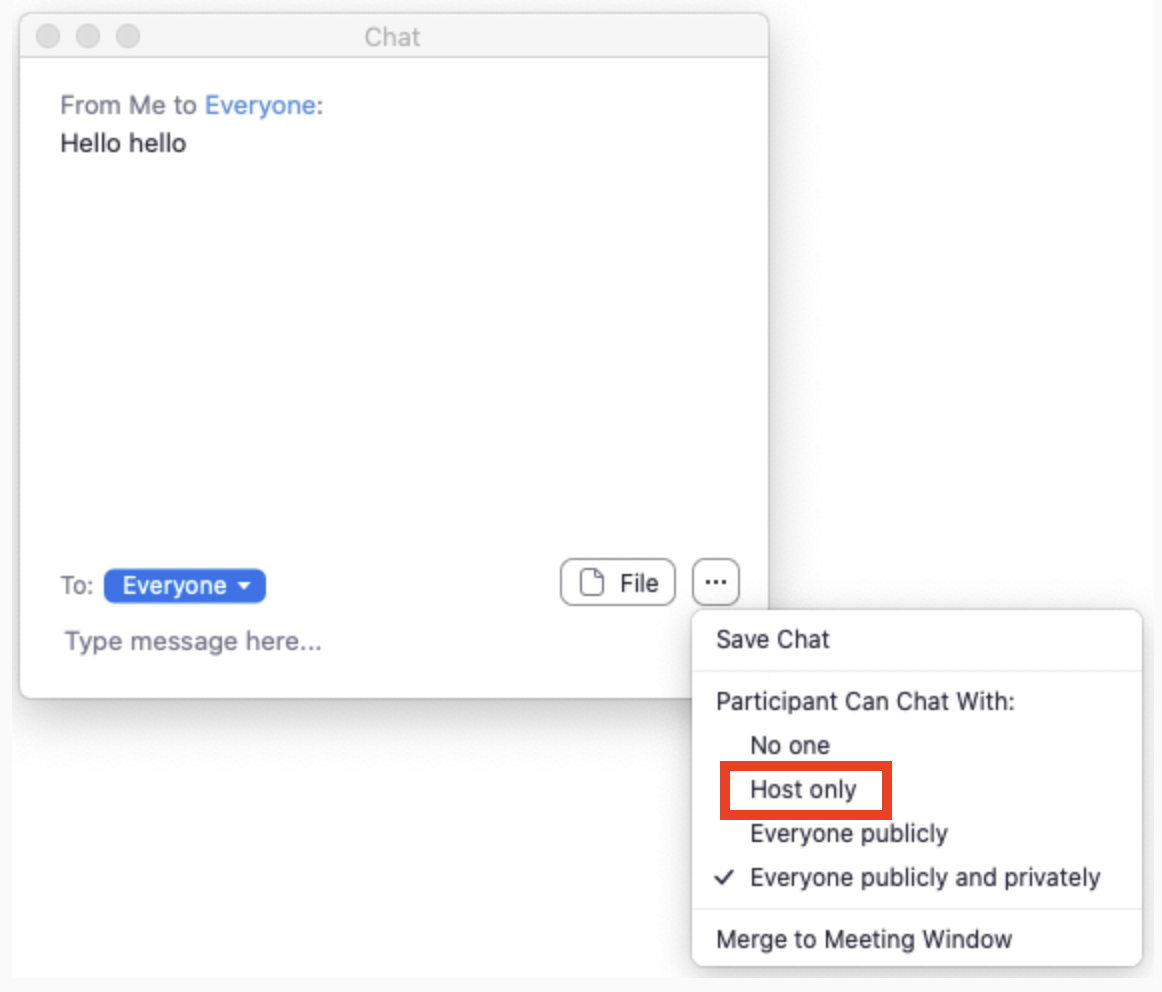 How do students ask for technical help before and during Exam?
It is complicated and imperfect. Before LockDown Browser opens – they can use their regular web browser and email to correspond with help desk. Once the LockDown Browser load it gets more difficult to ask for technical help.
You can add links to help pages at top of quiz in instructions. You allow this in Advanced Settings – Allowed Domains by adding URL of help pages. Next you add the URL as a clickable link in Quiz instruction field. Students can then easily open a separate TAB for these help pages.
The difficulty is even though students can look up help FAQs, they can't directly ask for help, by email for instance, because lockdown browser wouldn't allow their email client to open. It might be worthwhile having student bookmark the help pages in their regular web browser and their phone before going into LockDown. If LockDown freezes or has major issues – they could do a restart and then use their regular web browser and email to reach out for help or another option might be using another device  to get ask for help. This is not perfect, but it is the best we can do.
How does student ask for bathroom break?
Students can use private chat in Zoom window to notify instructor when they are leaving and when they return.
What if student gets disconnected from Exam?
If your connection drops, once it reconnects it will have no affect on LockDown Browser session. Canvas will complain there's no internet and as a result won't save exam progress during the outage. Once you reconnect to the internet you can continue as normal and submit your exam.
If student tries to submit they will get an error page. They will then have to quit out of LockDown Browser, restart LockDown Browser and resume the exam again when internet is restored (you don't get locked out of it), but all progress made after losing internet will be lost.
As for sudden shutdowns, students can resume the exam, and LDB in Canvas will log the early exit as shown in the screenshot below:
Can I get a report of who was in the Zoom session?
Once Zoom session is over you can go to the profile page of the person that created the meeting and access the REPORTING tab….select Usage Report and you can download a roster of all participants…this roster show users Zoom names so can be hard to decipher…could add a question to start of quiz…what is your Zoom display name?
Contact us at the Centre of Instructional Help Desk at learning@apsc.ubc.ca and we can help you through setup and understand the limitations of this approach.