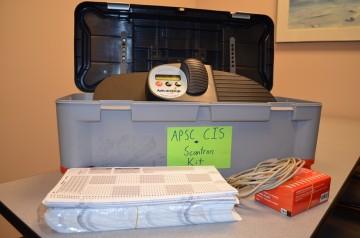 The CIS has the following resources to help you use scantrons for your tests and surveys:
Datalink 1200 and 3000 Scanners (In-Office): Drop off your scantrons and answer key with us and we can process them, email you the results and (optionally) upload the marks into Connect.
Scantron Sheets: Drop by anytime to pick up scantron sheets. For large quizzes and exams, use the red scantron sheets (compatible with the "3000" scanner). For a smaller number of students, use the blue scantron sheets (compatible with the "1200" scanner).
CIS Scantron Kit (Mobile): If you would like to do scanning live in-class, you can borrow our kit which comes with a Datalink 1200 scanner, blue scantron sheets and the power/data cables. We can also lend you a laptop with the scantron software installed. To collect the scanning results on your own, install the Datalink Connect application on your PC/Windows or Mac/OSX computer (these links were last updated October 2014) .